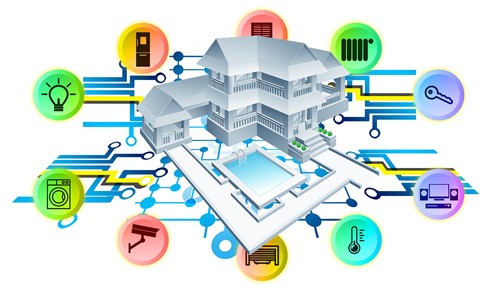 Smart home technology was designed to be user-friendly for homeowners, yet there's still a misconception that you need to have an engineering degree to set it up. Luckily, home automation technology gets easier and easier to use with every new improvement, empowering you to make the best decisions for your own home without hiring professionals for installation. If you're interested in a more DIY experience to improve your home and potentially even save money, here we will go over some tips to get started.
What Is Home Automation?
Complete home automation allows you to control every aspect of your home from a central digital hub. Typically the main controls are associated with an app on your smartphone, and the features combinations are numerous. For example, you could use home automation to streamline your morning routine by having your alarm clock start your coffee maker. You could also set a timer for opening smart blinds on your windows to let in the morning sun.
While these scenarios sound futuristic, they're easily achieved with today's home automation. The technology is improving all the time, and with it the ease of use.
How to Get Started
How can setting up your own home automation help? Homeowners tend to benefit most from the following:
Locks: To avoid having to make multiple keys, you can install a smart lock. Not only can residents use it daily through their smartphones, but guests can be given temporary access when they need it. It takes nothing more than a screwdriver to take out your deadbolt and install. If you get stuck, there are instructions included as well as at least one online tutorial made by a fellow consumer that can help you.

Security: It's easy to install video doorbells by simply removing the old one and attaching the new bracket included in the setup kit. Once it's installed, you can use Wi-Fi to show you what's happening with your home even when you're not there. You can keep an eye out for package deliveries or detect any suspicious activity around your home with ease.
Temperature Control: Similar to replacing your old doorbell, replacing your old thermostat is more straightforward than you might think. Even better, the benefits can help save you money on your energy bills by automatically reducing or increasing temperature based on room usage and occupancy. You can also easily control your smart thermostat when you're not home if needed.
Lighting: The smart lighting starter kits available on the market make home automation as simple as screwing in a light bulb. Controlling lighting from your smartphone can be a great way to save money if you happen to leave a few on when you leave the house. You can also set up automated light cycling to make it appear as though you're home even when you're away on vacation.
Disaster Control: Smoke and carbon monoxide detectors have long been a trusted solution for homeowners, and smart technology provides helpful new features. These safety devices can send alerts directly to your phone or contact emergency services in the case of a fire or gas leak, whether you're home or not.

Why Home Automation?

As technology improves and becomes more accessible, it makes more and more sense for homeowners to implement some form of home automation. You can use it to improve your security, safety or simply cut down on energy costs. As you install different devices, you can get a better sense of how they interact with the technology and what kind of utility they get from each feature. While it's always helpful to get expert advice, you can install and set up most automation all on your own to meet your specific lifestyle needs.