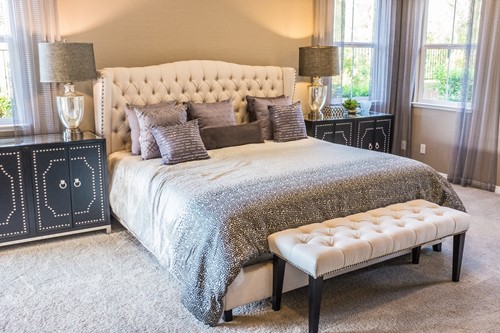 Photo by NeONBRAND on Unsplash

The headboard has become an integral part of bedroom furniture in the contemporary bedroom. Often the centerpiece of a bedroom, there are many design options available to you. Some are simple and understated. Others may feature cushioned back support, storage functions or built-in reading lights.
Wooden
Wooden headboards are a classic and timeless choice. Traditional wooden styles can take center stage or be beautifully understated, letting your bedding or other design features take the spotlight. You'll find paneled options, mission, spindle or sleigh styles and even variations that incorporate shelving or drawers for storage. Modern options could use simple shapes that highlight rustic or distressed finishes.
A wooden headboard doesn't have to be traditional. For a more unusual wooden option, consider repurposing an intricate antique door or a hand-carved medallion. 
Upholstered
Upholstered headboards are often finished with fine textiles like velvet and satin but they can also be found in leather or leather-like materials. There are plenty of understated styles that come in standard sizes but many upholstered headboards are quite large and can become a natural focal point for the room. Sophisticated details like brass nailheads or thick piping are often used in these designs.
There are DIY options available that can show you how to add upholstery to an existing headboard. Consider this option if you already have a headboard that is a size that fits your space well.
Paint or Textiles
If your room is on the smaller side and you want to conserve space, incorporate a headboard that is either painted on the wall or created with hanging textiles.
If you opt to paint, carefully measure and draw your design on the wall where the head of your bed will be. Use painters tape to achieve a crisp line. It's easy to repaint if you change your color scheme or bedroom style so this is a good option if you often like to refresh your space.
If textiles are a better fit for you, consider installing a decorative curtain rod near the ceiling line above your bed. You can use the curtain rod to hang curtains, tapestries or even macrame or woven pieces. If you have a few bedding sets that you cycle through, this gives you the flexibility to easily update the hanging textile to match.