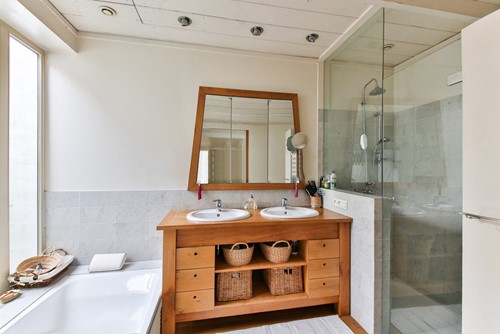 Photo by La Belle Galerie via Pixabay
When your home is on the market, you can't always anticipate when you'll get a call from your real estate agent that a buyer wants to see it. Trying to keep your home in perfect condition can add stress to an already complex time, but if you practice these tips, your sparkling bathroom is sure to win them over.
Daily Habits
Keep a cloth beside the sink so that you can wipe it out after each use. Then, before you leave the house, just grab the cloth and put it in the laundry. Another option is to keep a pack or canister of wet wipes handy. Just before you head out, wipe down the fixtures, drawer pulls, switch plates, and doorknobs. Don't forget the toilet lever. And keep the seat lid down.
If your shower has glass panels or doors, buy an inexpensive squeegee. Keep it in the shower and teach everyone to give the glass a once-over as before they step out of the stall. Doing so keeps water spots from forming on the glass. And speaking of glass, keep a microfiber cloth handy to buff the vanity mirror and keep the toothpaste spatter at bay.
Weekly Habits
Freshen the towels at least once or twice a week. Use a cleaner in the toilet and wipe down the outside with an antiseptic wipe. Wipe down the sides of the shower or tub while you're in the shower to simplify the process. Damp-mop the floors too.
Monthly Habits
Launder the shower curtain and liner to keep mold away. While you're at it throw the bathmat in too. Attach a microfiber cloth to a broom with a rubber band and catch all the dust on the ceiling, corners and light fixtures.
Unclutter
Take a weekend morning to remove all the extra stuff from your bathroom cabinets, drawers, and vanity top. Keep only the items that you use regularly. Store them in baskets or tubs that you can quickly slip under the sink or into the linen closet before homebuyers arrive. Keep a set of towels aside specifically for staging and whip them out when you know someone is on their way.
Add one of these routines into to your daily, weekly, and monthly habits and see your stress levels drop when you get that call from your agent. While you're doing that, talk to your agent about other ways to stage your home without completely disrupting family life.